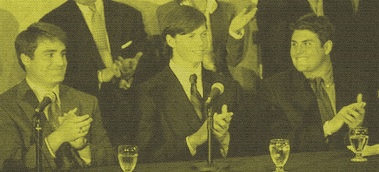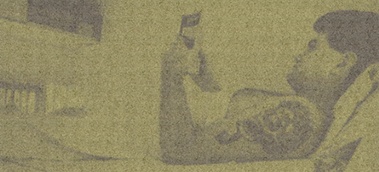 Above: Dave Evans, Collin Finnerty, and Reade Seligmann
Below: Cameron Todd Willingham
In the year-old editorial I was writing about last time, Duke Law professor Jim Coleman argues that the aborted cases against the Duke lacrosse players and Alaska Senator Ted Stevens were not failures of the justice system. In those two instances, "some parts of the system failed [but], in the end, justice was done through the system itself." The real failures, according to Coleman, are the sort that come into the Duke Innocence Project, which he supervises. The students who work on them "are surprised at how little evidence it took to convict the prisoner. And students are dismayed by the widespread indifference of the police, prosecutors, judges, defense lawyers, the North Carolina Attorney General, and the public to the routine misconduct of some prosecutors and police officers and to the possibility that some of these prisoners may be innocent."
I couldn't help thinking about Coleman's editorial when I read David Grann's article about Cameron Todd Willingham in the New Yorker last September. The state of Texas executed Willingham in 2004. Grann makes a compelling case that he was innocent. If so he represents the ultimate failure of the justice system. Another case discussed in Grann's article is an uncanny parallel to Willingham's. What saved Ernest Ray Willis from the lethal injection that Texas had in store for him, too, was a really good attorney with deep pockets. It's much the same story with Alan Gell, a North Carolina man whose overturned capital murder conviction helped set the legal stage for the lacrosse case.
(This is as good a place as any to let you know that I am a total layman when it comes to the law. If you're not, don't hesitate to tell me what I've missed or misunderstood. It's possible that I know even less than I think I know, but at the same time I don't want to tack "it seems to me" or "as I understand it" or some such thing on every other sentence. So, consider yourself warned).
At the April 2007 press conference for the three lacrosse players who had just been exonerated by the North Carolina Attorney General, defense attorney Jim Cooney's overall assessment was the same as Coleman's. He and his colleagues were "delighted the justice system worked," though he goes on to stress that "it never should have misfired to begin with." He was functioning as part of the system, and it would have been perverse of him to describe his success as the system's failure. And in fact it wasn't the first time he'd been a safety net for the system's flaws. He was part of the "North Carolina legal dream team" that freed Alan Gell, and so were two other lacrosse-case defense attorneys, Joe Cheshire and his junior partner, Brad Bannon. More recently, Cheshire was instrumental in reversing the conviction of another man who was wrongfully sent to North Carolina's death row, Jonathan Hoffman.
It was Joe Neff of the News and Observer who wrote about the "legal dream team," in a fascinating article that quantifies the effort to overturn Gell's conviction (the article isn't online, so I've put an excerpt at the end of this post). Cooney was working pro bono, and he estimated that he and his staff at Womble Carlyle Sandridge & Rice had put in 1000 hours, or about $300,000 worth of work. That's only a fraction of the total effort, though exactly what fraction isn't clear from the article. Among the things it doesn't include are Cooney's hours. By way of comparison, Neff mentions that one of the court-appointed attorneys who defended Gell in his first trial billed for a total of 85 hours in three years. Several other defense attorneys were involved in the first round, but even though the case hinged on the victim's time of death, they didn't engage any expert witnesses. I imagine, and certainly hope, that with open discovery in place a smart, conscientious lawyer could put together an adequate defense without burning through half a million dollars — the problems with the state's case were not exactly subtle. But the enormous effort that's required to reverse a slipshod prosecution is a sobering measure of the state's leverage. It's my impression that the time and money that went into overturning Ernest Ray Willis's conviction was even more out of proportion to the irresponsible but perfunctory prosecution that put him on death row. (The definitive account of the Gell case is the four-part series that Joe Neff wrote in 2002 — it's a great read, too. This 2007 interview with Cooney and Bannon is a good source for their perspective on Gell, Duke lacrosse, and open discovery.)
One comment that Cheshire made to Neff takes on extra resonance when you bring the lacrosse case into the picture: "What Mary [Pollard] and Jim [Cooney] and I have tried to do is make sure Alan Gell gets as good a defense as a rich person" (and rich is the right word — a defense like that could bankrupt a person who was merely middle class). Ironically, as Neff points out, "Getting sentenced to death was a lucky break for Alan Gell." It triggered a mandatory review, which put his case in front of Cooney and Pollard and set the stage for his "dream team" retrial. Since their families were able to pay, Seligmann, Finnerty, and Evans got a robust defense without first landing on death row, or even in jail, and I suspect that's a consistent difference between a real rich person's defense and the indigent's equivalent.
Needless to say, none of the lacrosse-case attorneys at that press conference were talking about the great defense rich people get. They were, I believe, still on the job, which at that stage would have involved working to restore their clients' reputations and staking a claim to damages. With respect to the players' reputations, Cheshire took a good-natured jab at the dullards in the media who had been so fixated on guilt: "Well, [NC Attorney General] Roy Cooper said a word today. The word is I-N-N-O-C-E-N-T. And I want to make sure everybody has got that and knows how to spell it." The other theme was pain and suffering, and I assume that was to some extent strategic. It would, in any case, have been unprofessional for the attorneys to imply that their clients' wealth mitigated anything.
It was the players who spoke to that point — both Reade Seligmann and Dave Evans acknowledged that they would have been completely at Nifong's mercy if they had been poor. Seligmann's comment about how the "entire experience has opened my eyes up to a tragic world of injustice I never knew existed" has been cited quite a few times, including in Coleman's editorial, and for good reason. Of the three, he was the most energized and outspoken about the big principles — it's clear he thought long and hard about them (and continues to). When Evans talked about how bad things could have been he was thanking his family for making sure he was well represented. A natural approach given the occasion, and he made a strong statement.
I don't take lightly the fact that [my parents'] hard work, their success and their sacrifice has allowed me to be represented by such fine lawyers. Many people across this country, across this state, would not have the opportunity that we did. And this could simply have been brushed underneath the rug just as another case and some innocent person would end up in jail for their entire life.
That press conference was an impressive exercise in public relations, and I'm curious about how planned and coordinated it was (there's nothing disreputable, by the way, about a little intelligent PR on behalf of people who've been thrust into the media spotlight and dragged through the mud). The statements from the three young men were the centerpiece, though, and with them what really mattered wasn't so much the message as the significance it had for speaker. There are three distinct personalities on view, and it seems to me that each of them did, in fact, speak his mind, and to good effect. What they chose to say about the justice system must have been influenced by conversations they had with their attorneys and by things they read or heard elsewhere — two of them thank KC Johnson (except it's transcribed as "Casey"), so they must've been following Durham-in-Wonderland — but it was also a sincere reflection of their experience staring into the belly of the beast. They wanted to put the experience in perspective, and I admire that.
The attorneys spoke with a mixture of affection, relief, and indignation, all of which would come pretty naturally when a long and intense process ends with complete vindication. For the most part a little emphasis and embellishment is all it took to do the work they need to do on behalf of their clients. They're forthright about what made the case such a debacle but also measured and incisive (Cooney's take on on the "villains" in the case is especially interesting — I've excerpted it below). Acting as MC, Cheshire's light touch is disarming and he's the soul of generosity, obviously very much in his element. I do wonder, though, if all the attention he pays to his colleagues doesn't make the attorneys a bit too conspicuous for the occasion.
It's at the beginning of Cooney's remarks, when he tells the story of how he came to take the case, that the lawyerly stuff gets a little out of control. Ads for luxury items tend to suggest they're the mark of a worthy buyer — a person of taste and discernment, or else someone who's "earned it." Cooney's services end up sounding like that sort of item, except that what makes the client worthy in this case isn't their taste but their pain.
You know, I always seem to be in trial when something is happening in this case. I was arguing in front of a jury about two-and-a-half hours ago, so I'm in a little bit of a decompression.

But it reminded me that I got involved in this case when I was in the middle of another trial in the fall and Joe Cheshire called me. And I should know better than to take Joe's calls.

And he called me and said I have a case for you — he had already tried to get me in the case once, by the way. And he told me you will never have a more innocent client than this young man. You have got to take this case.

And, of course, I was in the middle of a trial, I was tired, and I said look, let me get through this trial, I'll go up and talk to the family. And I spent two days with Kathy and Reade and Phil — sat in their kitchen, talked to them, got to know them. And I cannot tell you the amount of pain that family was in.

The only comparison I can make was to a family who, god forbid, that had a child with a potentially fatal disease. And they woke up every morning not knowing whether their child was going to live and go on with a normal life or be taken from them [forever].

Because make no mistake about that, if Mike Nifong had had his way, Reade Seligmann would have spent 30 years in jail and he never would have seen his parents alive again outside of a prison waiting room.

And, after spending that time with them, I decided that Joe was right, as he usually is, and I needed to be in this case.
It seems to me that the compelling legal reason for someone of Cooney's caliber to take the case was Nifong's behavior, which indicated that he would pursue not justice but a conviction, by whatever means necessary. That, at least, is why it was imperative for the young men he'd singled out to have an exceptional attorney, wasn't it? Cooney suggests some such logic when he raises the specter of Nifong having his way. But the overall impression is that it was the family's pain and not their objective legal needs that made him decide to represent them.
And then there's Cheshire's selling point, which was that Cooney would "never have a more innocent client." It does seem like that would be a real attraction. As a matter of legal principle, though, does being purely innocent have any bearing on how much a person needs or deserves representation? That's a serious question — I'm not confident that I know the answer. But I believe that the answer is no, because as I understand it the system is supposed to dispense as much justice to the sort of innocent and the fairly or totally guilty as to the purely innocent.
If lawyering is the romantic occupation of riding in on a white horse to rescue decent, honorable dudes in distress and make their families whole again, Cooney is making the Seligmanns sound like a prime opportunity, for himself. And even back when he made the trip to visit them the odds of success must've looked pretty good, though of course there was a very real chance of failure and heartbreak. But at least this was a client who could probably foot the bill. Overall, nice work if you can get it.
No doubt I've blown this anecdote way out of proportion, but it disturbs me that a widely respected defense attorney would portray legal representation as if it's a matter of sentiment and sympathy. I don't draw any conclusions from Cooney's story about taking the case — all he says, in the end, is that he spent some time with the Seligmanns and then made up his mind. But leaving the impression that it was the family's pain that made it impossible to say no is a great way to dramatize how deep and compelling that pain was. And the pain is the point, obviously, but was it really worth the exercise in disengenous storytelling to drive it home? Wouldn't the unsentimental logic of representation in an adversarial system be the last thing a person like Cooney would fudge? (Again, those are serious questions.)
~ ~ ~
I was browsing through some of the Durham-in-Wonderland posts about Mike Nifong's disciplinary hearing in June 2007 and found a rare point of agreement between me and the loyal commenters there — the lacrosse case raised my general opinion of lawyers, too. Here's a nice clip of Brad Bannon talking about why a defense attorney's job, in a case like lacrosse, is get things taken care of without their client having to have his day in court.
~ ~ ~
This is Joe Neff's article from the News and Observer, Feb. 17, 2004 — "Dream team defends Gell in murder retrial." It doesn't seem to be in the paper's online archive.
At Gell's first trial, his lawyers hired no expert witnesses to rebut or analyze the state's case. They never asked a forensic pathologist to determine when Allen Ray Jenkins died.

Time of death is crucial. Prosecutors contend Gell murdered Jenkins on April 3, 1995. But Gell's new lawyers say Jenkins wasn't killed until April 8 at the earliest. For that date, Gell has a rock-solid alibi — he was out of state or in jail from April 4 until after Jenkins' body was found.

Interpreting the clues at the crime scene was essential because the state's main witness, Crystal Morris, has given widely differing accounts. A crime scene expert could have analyzed blood spatter and the pattern of the shotgun pellets to determine how Jenkins was shot and where the shooter was standing, but none was hired.

For this trial, Gell's team consulted a parade of experts: a forensic entomologist who studied the maggots at the crime scene to determine the time of death; a forensic anthropologist who studies human decomposition; two engineers to model the temperatures in Jenkins' house; and a crime scene expert from the Connecticut State Forensic Science Laboratory.
Then Neff gets into the numbers — 1000 hours from Cooney and the Womble Carlyle staff, pro bono, which would normally bill for about $300,000. Cheshire was billing $85/hour, "a fraction of what wealthy clients would pay him," and it sounds like Cheshire's firm was absorbing Brad Bannon's fee. A third of the expert fees were paid by the Office of Indigent Services with Womble Carlyle taking care of the balance. That seems to be in addition to the 1000 hours, and so does this:
According to Hunter's records, Cooney, Pollard and their investigators spent more than 1,000 hours just winning Gell a new trial. Cheshire and Pollard have not submitted invoices yet for the pretrial preparation, let alone the trial. They will each total hundreds of hours in pretrial work.

By contrast, Chuck Moore of Ahoskie worked on Gell's case from Gell's arrest in 1995 through his trial in 1998. According to court records, Moore billed a total of 85 hours on the case before it went to trial.
~ ~ ~
Here's what Jim Cooney had to say about what went wrong in Durham and at Duke, from a press conference in April 2007.
I want to talk a little bit about the cowards because, as Joe said, this is a bittersweet day. We're all delighted the justice system worked. But the reason it's bittersweet is because it never should have misfired to begin with. And the reason it misfired is because people were afraid to speak truth to power.

And I want to call out first the newspaper in Durham, North Carolina, "The Durham Herald-Sun," who, to this day…
It seems to me that he was being pretty charitable to describe the people who publicly supported Nifong's efforts as being afraid to speak truth to power. It wasn't fear that stopped them, and he makes that clear when he continues (he'd been interrupted by laughter).
… has not written a single editorial critical of the way in which Mike Nifong proceeded. If "The Durham-Herald Sun" had bothered to stand up and demand proper processes, the presumption of innocence, and doing things the way our Constitution provides, do you think Mike Nifong would have rolled forward?

Instead, they published editorials talking about how bad all the lacrosse players were, and that the lacrosse players should have to prove their innocence, and that, in addition to the crimes that night, there was a crime of a cover-up. And you will not see a word of apology from them.

In fact, as recently as two weeks ago, they were still publishing what they knew were lies, and repeating them.

Now, we will never sue them. They have got way too much money. And, as a general proposition in the law, you don't sue people who buy newsprint by the gallon, because they always win.

But, if they had done what journalists are supposed to do and spoken truth to power, they could have slowed this train down. And there are a number of other people in Durham, some of whom teach for a living, who should have stood up and said, wait a second. Civil rights means something. We have spent careers studying civil rights. We're not going to throw them down the drain simply because a district attorney tells us to.

One wonders what would have happened if the newspaper had stood up for proper processes and if the teachers had stood up for proper processes, whether that would have slowed the last coward of the case down. And you know who I'm talking about.
The last couple of paragraphs are especially good. Whether resistance from the Herald-Sun and the Duke faculty would have swayed Nifong is an interesting but totally hypothetical question. It could have, for sure. What more important is that it was the right thing to do both personally and, in many cases, professionally.
While I'm at it, the other standout moment (for me) is the bittersweet I-told-you-so that Cheshire laid on the press. I already quoted the end. Here's the rest:
In that regard, I do want to remind you all of one brief thing. On March the 30th of last year, when the press was completely out of control, when these boys were the guiltiest people on the face of the Earth, when everyone in this country was pillorying them as hooligans and rapists, I called a little press conference in my office and I looked at you national media and you local media and I said — I was kind of scared when I said it — but I said you all are wrong and when this case is over, you're going to be embarrassed if you don't open your eyes and listen to what the truth is.

Somebody in the press said to me afterward, we've never had anybody speak to us like that. That's a pretty dangerous thing to say.

Well, Roy Cooper said a word today. The word is I-N-N-O-C-E-N-T. And I want to make sure everybody has got that and knows how to spell it. These young men were, are and always have been innocent.