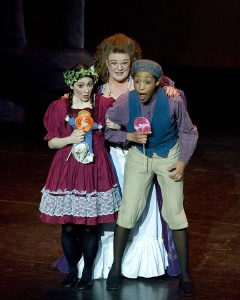 As a jaded, pessimistic, and inertia-bound person, a wonderful thing about having children is that I end up doing fun things I would otherwise avoid. Going to Greensboro, NC to hear Engelbert Humperdinck's Hansel and Gretel on Friday was a case in point. Even without my daughter there were good reasons to go, but it's more than an hours drive from home, and I wasn't sure about the Greensboro Opera Company. I knew one of the singers would be excellent, but I've heard excellent singers in shows that also featured not-very-fun-to-hear singers, or painfully out of tune orchestras, or other things that I'd rather not sit through. My daughter really wanted to go, both for the opera and to visit her Greensboro cousins. So off we went, and no matter how good or bad the opera was, it would have been a fun evening—great to get out of town, to see the cousins, and to have time together without the much loved but often loud and obtrusive little sister. And as a bonus, both of us thoroughly enjoyed the opera. How 'bout that?
There was, as I said, one singer that I already knew. Cheryse McLeod Lewis sang in a recital of my music a few months ago.

She managed to learn a very difficult piece in a few days and then bring it vividly to life, and even though I was a complete wreck, she was calm, personable, and utterly professional. She's one in a million, a real gem. Playing Hansel on Friday, her singing was stylish and note-perfect, as I knew it would be. She's a tall, elegant woman, so it's a challenge to see her as a boy, but she and her Gretel, Elena DeAngelis—another very fine singer—were a suitably playful pair, great fun both to hear and to watch. All the singers were good, in fact. I'm not interested in doing a whole review, especially since I've never liked the habit opera reviewers have of dissecting everyone in the cast. I do want to mention that the other singer I particularly enjoyed was Richard Hodges, who had great presence as the father. He had the perfect setup—as the only man in the cast, how could he not make a strong impression? But it was a pleasure to hear his drunken "tra la la las" fill the auditorium, and not just for me—I noticed my daughter singing them while we were riding our bicycles the next day. According to his bio he's an undergraduate at North Carolina Central, here in Durham. He should go far, but before he does I hope to hear more of him.
I was as pleasantly surprised by the opera as I was by the performance. I was expecting cutesie, second-rate Strauss, and even first-rate Strauss is not that high on my list. In fact, even pared down to an eight piece chamber orchestra, it's a wonderfully rich score, light but not lightweight or simplistic. It burbles along in running eighths or sixteenths much of the time, but with an overlay of beautiful little soloistic turns, especially from the winds. The chamber arrangement has eight very juicy parts, and it was a blessing that the players on hand were able to do them full justice. It was pure joy to hear Mary Pritchett Boudreault on the french horn. Personally I think she deserved her own bow for nailing everything she played. She did get a kiss on the hand from the conductor, which I suppose counts as something special. The other winds played beautifully, too, but there's nothing like the french horn for getting egg on your face.
It turns out that I've been looking for this opera. My daughter loves our DVD of the Ingmar Bergman Magic Flute, and I've been promising her for a while that I'd find another opera for us to watch. Mozart and Bergman set an awfully high mark, though, and I wasn't coming up with anything that I really liked and that also seemed appropriate for a 9 year old. I think Maestro Humperdinck will serve well. I'm curious to hear it with the full orchestra, too.
The one thing that bothered me was the overabundance of tight little couplets in the libretto. Not only did they get tedious, they undermined the flow of the music, which is one of the opera's great charms. I'm not sure if it's an issue with the translation or if the German original is just as bad. It's not that light-hearted wordplay is out of place, I'd just prefer not to have the feeling that a drummer should be going ba-dum-CHING every 15 seconds. There were some odd contemporary references in the translation that I now understand (thanks to google) as due to the fact that the translation was done for a production that set the opera in "the splendor of the Gilded Age in New York." In Greensboro they made some comic interpolations of their own, generally to good effect. I took the winking reference to Woolworths (as the source of the precious milk jug that is broken in the first scene) as allusion to Greensboro's big civil rights episode, the lunch counter sit-in of 1960. It could, I suppose, have been in the New York translation, but given the decidedly interracial nature of the Greensboro Hansel-and-Gretels (father and son were black, mother and daughter white), the local connotation is hard to avoid. He who laughs last laughs best, I guess—a sweet moment.
The Greensboro opera has a lot to be proud of—there was not only good music but a feeling of community in the full house on Friday night. Evidence is that the company has a strong sense of outreach, both broadly and at personal level, as I found out at intermission when a woman from the opera's board of directors approached out of the blue to ask me and my daughter if we were enjoying ourselves. It's wonderful that they're able to feature two fine, Greensboro-native singers, both African American. Even more remarkable how well represented the African American community was in the audience. I see they'll be premiering on opera on Martin Luther King next year—a daunting subject, I'd think, for composer and librettist, but one with great operatic potential. Hopefully they'll do it justice. I'm looking forward to being there to find out.